Frontpage
Save up to 40% on Scratch & Dent COPPER bowls! (Regular Style)
$18.00 $28.00
All of the benefits of our regular bowls, but with some cosmetic flaws. We occasionally have bowls that have some cosmetic blemishes or very small dents at the edges. These bowls work just the same as our full priced products, but we cannot sell them at full price.
The pictures are to show the kind of blemish that may be present. These are not pictures of the actual bowl that will be sent, just as a representation. We will not send anything that has damages that would render the bowls unusable, damages are normally small dents that may have happened during shipping or manufacturing, or cosmetic blemishes in the electroplating.
Available In:
6 oz: 4-3/8" x 1.5"H
12 oz: 4.5" x 1.5"H
24 oz: 6-5/8" x 2.5"H
50 oz: 7.75" x 2.5"H
75 oz: 9-7/8" x 3"H
110 oz: 11.5" x 3.5"H
180 oz: 13" x 4"H
Copper is for water bowl use only. Not to be used as a food bowl. Copper naturally darkens. We recommend polishing as needed using a copper polish.
Non-slip versions are also available, please check our other listings.
---
Size Guide
---
Related Items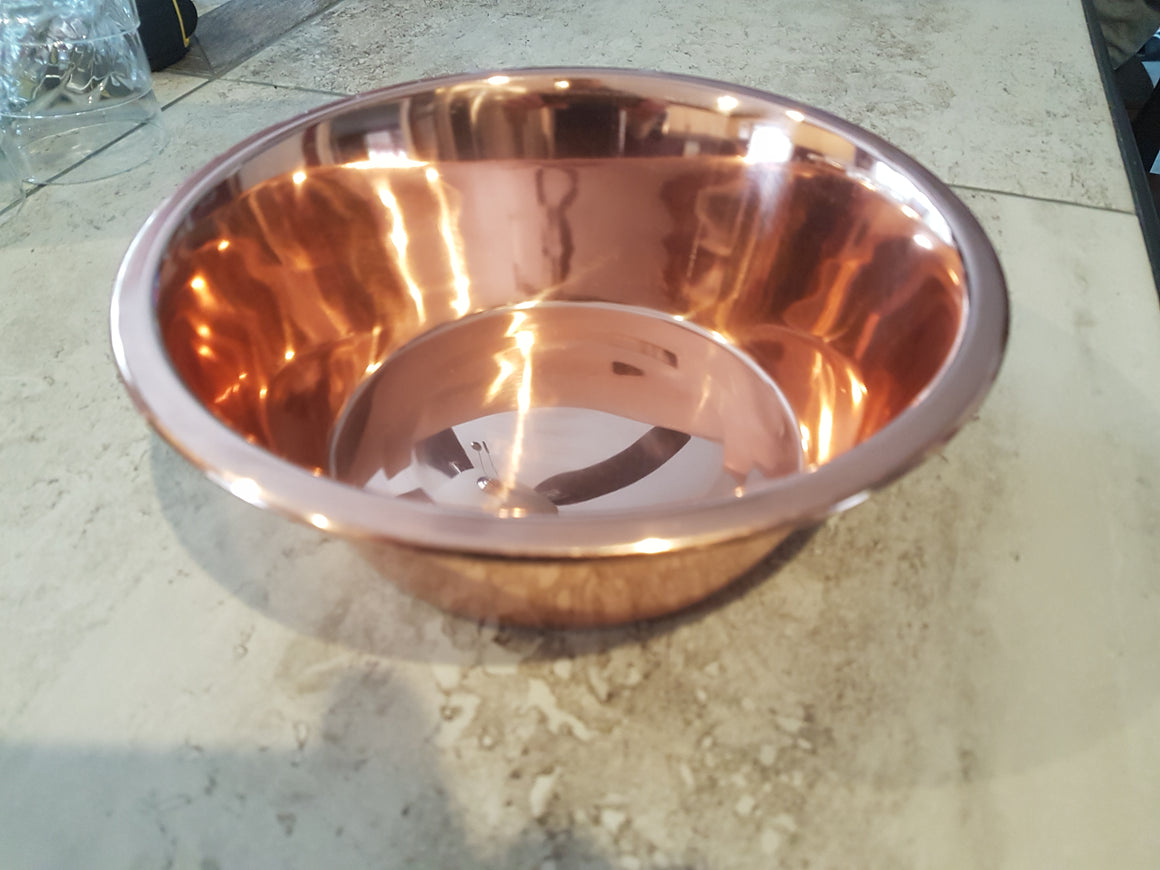 Standard Copper Water Bowl (Water Only)
$10.00
Pets love the cleaner water in a CuBowl! Our bowls are uniquely antimicrobial, the only...
---
Size Guide
*NEW* Gift Cards
$10.00
Shopping for someone else but not sure what to give them?Give them the gift of...
---
Size Guide
About Us
CuBowl is a Canadian company based out of the beautiful Niagara region of Ontario, Canada. We came up with the idea after a conversation about the annoyance of having to constantly be scrubbing away the slimy layer in our dogs' water bowl. We couldn't find an unlacquered bowl made out of an oligodynamic material so we decided to make our own.
The company was founded by a former microbiology grad student and our team includes two University of British Columbia microbiology Ph.D candidates.

On February 1, 2019, CuBowl was acquired by BoxerTUFF Pet Products, a privately held Canadian pet products manufacturer. BoxerTUFF Pet Products was founded with a vision to manufacture healthy, natural pet products that adhere to our strict safety policies. We also believe in donating back to organized, registered pet rescue groups. For more information, please visit us at www.BoxerTUFF.com
Thank you,
Brian Richardson
President